THE LEAK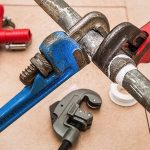 A pipe sprung a leak on the 2nd floor of my house. Water sprayed everywhere in an unstoppable flow. I turned the shutoff valve but the rupture was in the wall behind it, rendering it useless. I ran to the basement to shut off the water to the house but the knob wouldn't budge. There was nothing I could do but watch the water fill each level of my home from the top, to the main floor, to the basement. Even though the plumber arrived within 10-15 minutes, the damage had already been done. There was standing water on all three floors, ceilings that had collapsed from the weight of the water and soaked insulation, and innumerable personal belongings destroyed. Even the light fixtures looked like they were crying as water poured from the fixtures. The pipe was fixed within five minutes. Unfortunately, the same could not be said for the rest of the house.
THE CLEAN-UP
If you find yourself in a similar situation as our family did, you must take pictures and videos of everything. You need to do this before you start the cleanup process. This step is important for your insurance company, landlord, etc. Then sop up as much water as you can with towels, a shop vac, mops, or a carpet shampooer (don't spray cleaner). Contact a water damage restoration specialist like Water Damage Denver as soon as possible. Most will come out and give you a quote at no charge. Do not skip this step! Even if you feel like you've cleaned up all the water, you never know what havoc could be residing in the floors, walls, or ceilings. For example, two and a half weeks after the flood my teenage daughter was getting ready for work in her room. She went to the living room and moments later her ceiling collapsed right where she had been standing getting dressed. That ceiling was not drywall. Her plaster ceiling, which had the weight of concrete, missed falling on her and potentially killing her by a matter of seconds. And this was weeks after the flood. The weight of the standing water and wet insulation in between her main floor ceiling and the floor above it had finally given way.
THE FOLLOW UP
If you suffer from a catastrophic event that causes water damage, it may seem like a nightmare. Even though you may lose some things that are important to you, if you document it thoroughly, clean-up what you can as fast as you can, and get a professional water restoration service out there right away, you and your home will recover and get back to life as usual.
As always, we end the article will a helpful video that we found on Youtube: